SHENZHEN YUEWEN Technology Ltd.
TEL:0755-84190131/13510787859
FAX:0755-29080544
E_mail:ruide1974@vip.163.com
Address:Shenzhen New District of Longhua city streets Guanlan road Silicon Valley Guangxi chapter house community dynamics of low carbon technology demonstration park building two floor A6
ROOM C, 21/F., CERTRAL 88,88 DES VOEUX ROAD CENTRAL,HONG KONG
| | |
| --- | --- |
| Centerless Grinding Wheel | Localhost:Home - Products |
Product Features:
The grinding wheel is made of abrasive micro powder and thermosetting resin, and contains a large number of micro-pores, and the grinding wheel has the characteristics of elasticity and multiple holes. Strong grinding force, good balance, good durability, stable quality, suitable for free grinding of various materials, grinding workpiece angle can be ground according to actual needs. Pay attention to the problem that the imported grinding wheel is high in price and not durable, the domestic grinding wheel is unstable, and the hardness inside and outside is not the same. The grinding wheel is mainly made up of external grinding of the workpiece, and the processing outer diameter is high, which is suitable for the grinding operation of mass production. The polished workpiece has a roundness of 0.15 um, a surface roughness of Ra 0.02 um, a straightness of 0.2 um / 3000 m, a coaxiality of 2 um, and a dimensional tolerance of 1.5 um. Mainly used in M1010, M1020, MT1040A, M1050A, MT1050, MGT1050, M1080B, M1080D, M1083A, MG6425 and other centerless grinding machines.
Granular range:
Standard products 60#, 80#, 100#, 150#, 320#, 400#, 600#, 800#, 1500# and many other types. The company can customize the size and particle size of the grinding wheel according to the specific requirements of the customer.
The main purpose:
Shock absorber piston rod, locomotive front fork inner rod, steering tooth rod, rocker arm, engine valve, gas spring, nitrogen gas spring, nitrogen cylinder and other automotive metal parts and various pipe parts in hydraulic parts, chrome-plated rod. Suitable for grinding high carbon steel, high nickel alloy, stainless steel and tool steel metals and some special metals.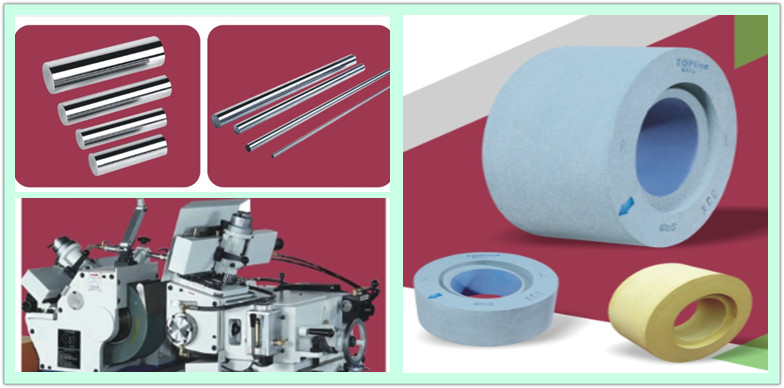 Frist Previous 1 Next Last Jump: 6items/page,

1

/1page,

1

items